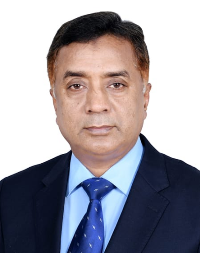 AIR VICE MARSHAL M MAFIDUR RAHMAN, BBP,BSP, BUP, ndu, afwc,psc
CHAIRMAN
CIVIL AVIATION AUTHORITY OF BANGLADESH
Air Vice Marshal (AVM) M Mafidur Rahman was born in 1964. He joined Bangladesh Air Force (BAF) in 1983 and was commissioned in 1985 from BAF Academy in General Duties (Pilot) branch. He attended a number of professional courses both in home and abroad including Basic and Advance Flying Training course and Command and Air Staff Course in Indonesia; Armed Forces War Course from National Defence College, Mirpur, Dhaka; and National War Course in USA. He obtained his Master's Degree in National Security Strategy from National Defence University, Washington DC, USA. AVM M Mafidur Rahman served in various command, instructional and staff appointments in different flying Squadrons, Wings, Bases and Air Headquarters. Some of the key appointments he held are Officer Commanding of different Fighter Squadrons of BAF & Flying Training Wing, BAF Academy; Director (Project; Plans; Air Operation; Training; Air Intelligence; Personnel), Directing Staff of Armed Forces War Course Wing, National Defence College. He served two main operational BAF Bases as Air Officer Commanding (AOC), namely BAF Base Bangabandhu, Kurmitola, Dhaka and BAF Base Zahurul Haque, Patenga, Chattogram. He is an experienced UN Peacekeeper. He Served as Military Observer in Macedonia in 1998 and as Contingent Commander of Aviation Units in DR Congo in 2005 and 2012. He is a fighter pilot and flew various types of fighter aircraft of BAF and friendly Air Forces. He has experience of flying BAF Cargo and Helicopters as well. He led flying displays and fly pasts in various occasions including National Victory Day Past in 2016 and 2017. Presently, he is serving as Chairman, Civil Aviation Authority of Bangladesh. His hobbies include reading books, playing golf and traveling. AVM M Mafidur Rahman is married to Sharmin Sultana and proud father of twin daughters, Mayisha and Ramisa.